Barracco the collector
Born in the ancient land of Calabria, which still witnesses rich evidences of the ancient world such as the beautiful ruins of the Hera Lacinia sanctuary at Capo Colonna, and educated in classics by Father Constantine Lopez in his early youth, these two factors deeply shaped Barracco's cultural interests throughout his long life.
Many friends in his later years remember him reading Greek and Latin classics in their original language.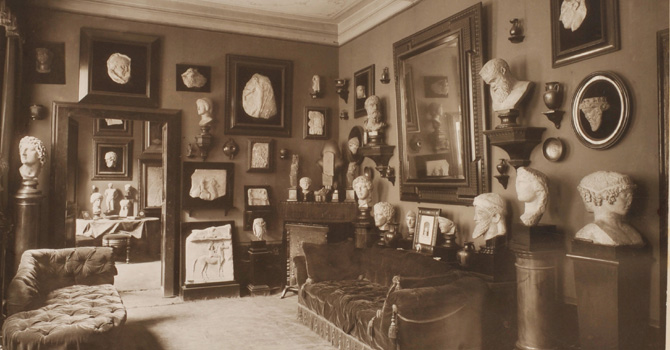 In the years spent in Naples and through the friendship with Giuseppe Fiorelli - soon-to-be director of the excavations of Pompeii and the Naples Archaeological Museum - Barracco developed his interest in archaeology, instilling in him a passion for art and, in particular, for ancient sculptures.
His political commitment led him to stand in the first parliament of united Italy, and for this reason he moved to Turin in 1861. Here, in the city of the Royal Museum of Egyptian Antiquities, he was fascinated by Egyptology and Near Eastern art and began collecting works purchased from international antique markets, very lively at that time.
Indeed, Egyptian art was a passion of his throughout life: he read hieroglyphics and his writings on ancient art are all dedicated to the analysis and interpretation of monuments and works of art from ancient Egypt and the Near East.
With the proclamation of Rome as the capital city of the newborn Italian state, Barracco moved to Rome, settling in an apartment on via del Corso, which soon became a sort of house-museum. Indeed, it was for the city a period of great archaeological activity, with important discoveries that emerged during the construction of new residential districts and offices of the ministries: most of these findings enriched ancient art museums, but also private collections.
With W. Helbig and L. Pollak's advice, his collection of antiquities grew and included works of Egyptian, Assyrian, Etruscan, Cypriot, Greek, Roman and medieval art: the collector's intent was clearly stated intent in the 1893 catalogue: "to set up a small museum of comparative antique sculpture" by analyzing the contributions to classical art of the great ancient civilizations around the Mediterranean.
In 1902 Barracco donated his collection to the City of Rome: in return he was granted planning permission on Corso Vittorio Emanuele II, where he built a neoclassical building designed by Gaetano Koch to house his collection, known as the Museum of Ancient Sculpture.
Barracco died in 1914, leaving the management of the Museum to Ludwig Pollak, his friend and collecting advisor.
Because of the restructuring of the area in the 1930s, Koch's museum was demolished and only after more than ten years, Barracco's collection found its final home in the "Farnesina ai Baullari".